November 9, 2022
The construction industry has one of the highest rates of suicide in the United States – 200% higher than any other type of career, according to the U.S. Department of Labor. Suicide is also the second leading cause of death for people ages 10–24 in the U.S., according to the Centers for Disease Control and Prevention. This heart-wrenching parallel is why Wanzek Construction chose the 4-6-3 Foundation, a non-profit organization with a goal to end teen suicide, to be the donation recipient of its 5th Annual Charity Golf Tournament.

The 4-6-3 Foundation was started by the Medd family in Fargo, ND, where Wanzek Construction is headquartered. In 2021, 15-year-old Liam Medd, a popular student athlete, died by suicide without any warning to his family, friends or coaches. It's now his family's mission to connect youth and their parents, coaches and mentors with suicide prevention resources and techniques.
During Wanzek's 5th Annual Charity Golf Tournament, more than $42,000 was raised with the help of vendors, clients, sponsors and Wanzek employees. All of these funds will directly support the prevention of teen suicide through the 4-6-3 Foundation.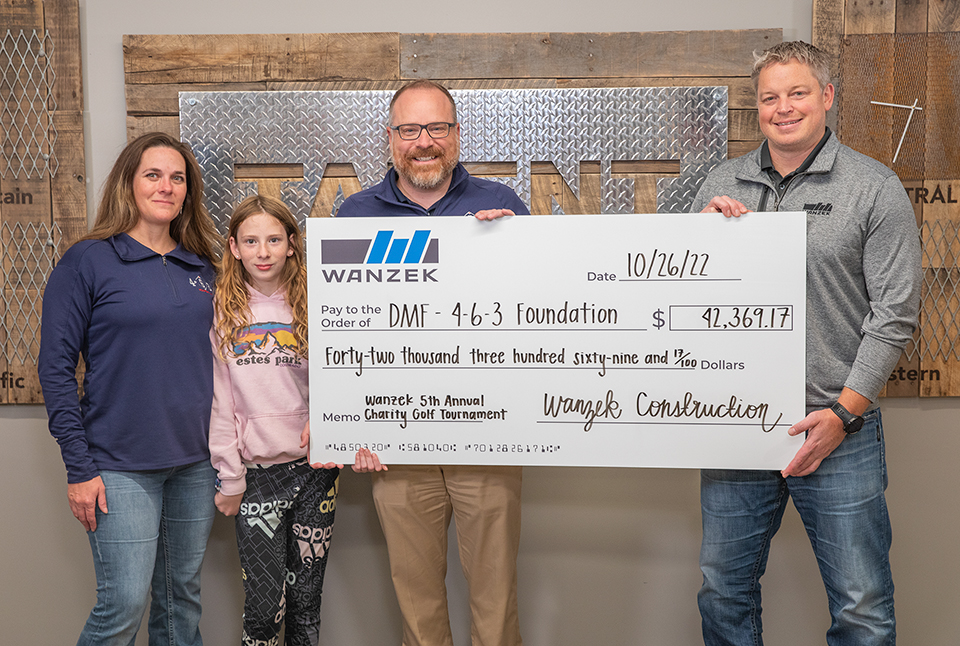 Pictured: the Medd family, founders of 4-6-3 Foundation (left) and Chad Eken, Wanzek Vice President of Wind (right)
Along with our support of preventing teen suicide, Wanzek cares deeply about our employees' mental and physical health – safety is Wanzek's number-one value. All members of our team receive free support and resources through an Employee Assistance Program. Our teams are also trained to support one another and spot the signs of suicide risks and other mental health concerns.
If you or someone you know is struggling with depression or thoughts of suicide, call 9-8-8 to get support from the 988 Suicide and Crisis Lifeline. The service is free, confidential and available 24/7.